by Jacob Robinson @JRobinsonWoN
Published on EST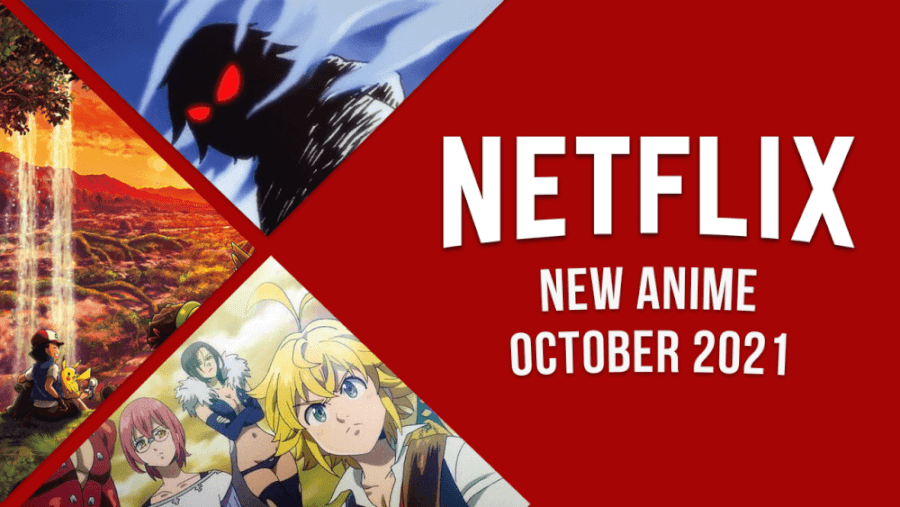 Two of Netflix's biggest internationally licensed anime franchises are releasing movies exclusively on Netflix in October 2021. And a first for Netflix, two new weekly anime series are also on the way. Once again it looks like it's going to be another exciting month for anime fans on Netflix.
Below is the scheduled list of anime coming to Netflix US in October 2021:
Director: Takayuki Hamana
Genre: Action, Adventure | Runtime: 79 Minutes
Cast: Bryce Papenbrook, Erika Harlacher, Cristina Vee, Erica Mendez, Benjamin Diskin
Netflix Release Date: Friday, October 1st, 2021
Fans won't have to wait long for the end of the anime series before we see the exciting new anime movie The Seven Deadly Sins: Cursed by Light arrive on Netflix!
After defeating successfully defeating the Demon King, the world has found peace for the first time in many long years. The wedding ceremony for King and Diane is interrupted by an army of Fairies and Giants, lead by the missing " Second Fairy King" Dahlia, and the "Giant Master Craftsman" Dubs, who seek to punish the seven deadly sins and all those that contributed to the Holy War.
Seasons: 3 | Episodes: 34
Genre: Action | Runtime: 13 Minutes
Cast:
Netflix Release Date: Sunday, October 3rd, 2021
The Chinese anime has found itself a home on Netflix, and in the process has become one of the most popular anime from the country amongst Netflix subscribers.
After departing Chicken Island, Seven's detouring adventures eventually land him in Xuanwu, where there is a steep price on his head.
Seasons: 2 | Episodes: 10
Genre: Comedy | Runtime: 16 Minutes
Cast: Kenjirô Tsuda, Shizuka Itô, Kazuyuki Okitsu, Melissa Greenspan, Billy Kametz
Netflix Release Date: Thursday, October 7th, 2021
The first season arrived in April 2021, and suffice to say it split opinions right down the middle. However, there was still plenty of charm to the quirky anime which deemed it worthy of a second season.
In the criminal underworld, Tatsu was once a legendary member of the Yazuka, who once defeated a rival gang single-handedly while only equipped with a lead pipe. The "Immortal Tatsu" strikes fear into the hearts and minds of police officers and criminals alike. Soon after disappearing, Tatsu resurfaces, now trying to make an honest living as a house husband to his wife Miku. Becoming a househusband poses a new challenge for Tatsu as he must contend with kitchen mishaps and dreaded supermarket sales.
Director: Tetsuo Yajima
Genre: Action, Adventure | Runtime: 99 Minutes
Cast: Sarah Natochenny, Ikue Otani, Michele Knotz, James Carter Cathcart, Michele Knotz
Netflix Release Date: Friday, October 8th, 2021
Netflix is fast becoming the home for new Pokémon movies and TV shows, which is why the 23rd installment of the Pokémon movies, Secrets of the Jungle, will be available to stream exclusively outside of Japan on Netflix in October 2021.
Koko, a young boy raised in the jungle by a solitary Zarude befriends Ash & Pikachu during one of their adventures. For the first time, Koko discovers the human world and the truth of his past.
Director: Taichi Ihidate
Genre: Drama, Romance | Runtime: 140 Minutes
Cast: Yui Ishikawa, Daisuke Namikawa, Takehito Koyasu, Hidenobu Kiuchi, Haruka Tomatsu
Netflix Release Date: Wednesday, October 13th, 2021
Violet Evergarden has been one of the most beautifully animated anime we've seen. Both the series and movies have looked absolutely incredible, which is a testament to the phenomenal work of the staff at Kyoto Animation. Expect plenty of tears in this heartfelt finale to Kana Akatsuki's beautiful story.
Daisy, the granddaughter of Anne Magnolia, finds the letters that were sent to her grandmother on her birthday and becomes curious about the legend of Violet Evergarden, who wrote beautiful letters for her customers. Meanwhile, fifty years in the past, and a letter with the handwriting of Gilbert Bougainvillea, who was believed to be dead, leads Violet to a remote island for a heartfelt reunion.
Seasons: 1 | Episodes: TBA (Released Weekly)
Genre: Comedy, Drama | Runtime: 24 Minutes
Cast: Hiromu Mineta, Yumiri Hanamori, Daiki Yamashita, Kengo Kawanishi, Yume Miyamoto
Netflix Release Date: Saturday, October 9th, 2021 | New Episodes: Saturdays
Blue Period will become the first-ever Netflix Original anime to have episodes released on a weekly basis, airing just a week behind the Japanese broadcasts. If Blue Period is deemed a success with its release schedule then hopefully we'll see more anime titles escape Netflix jail.
Yatora is the perfect high school student, with good grades and lots of friends. It's an effortless performance, and, ultimately … a dull one. But he wanders into the art room one day, and a lone painting captures his eye, awakening him to a kind of beauty he never knew. Compelled and consumed, he dives in headfirst—and he's about to learn how savage and unforgiving art can be!
Seasons: 1 | Episodes: 26
Genre: Action, Adventure | Runtime: 24 Minutes
Cast: Kôichi Yamadera, Unshô Ishizuka, Megumi Hayashibara, Steve Blum, Beau Billingslea
Netflix Release Date: Thursday, October 21st, 2021
Cowboy Bebop, one of the most popular anime franchises is getting its live-action adaptation coming to Netflix in November 2021. However, the exciting news is that the anime will be arriving on Netflix globally first, a few weeks prior.
Spike Siegal, former hitman and exiled member of the Red Dragon Syndicate, is a bounty hunter for hire. With the help of the crew of the spaceship Bebop, together they travel the solar system, chasing down bad guys and bringing them to justice.
Seasons: 1 | Episodes: TBA
Genre: Slice of Life | Runtime: 23 Minutes
Cast: Aoi Koga, Gakuto Kajiwara, Rie Murakawa, Rumi Ookubo, Junya Enoki
Netflix Release Date: Thursday, October 21st, 2021 | New Episodes: Thursdays
Komi Can't Communicate will become the second Netflix Original anime to be released on a weekly schedule for Netflix. The manga from which the anime has been adapted is highly popular, which means Netflix has scooped up yet another fantastic anime for its subscribers.
Shouko Komi begins her first day at a prestigious private high school where she instantly rises to the very top thanks to her beautiful looks, black hair, and tall stature. However, she's terrible at communicating and scares away other students. When fellow student Hitohito Tadano realizes that Shouki is poor at communicating, and likely has never had a single friend, he makes it his number one goal to help Shouki make one hundred friends so that she can overcome her communication disorder.
What new anime are you looking forward to watching on Netflix in October 2021? Let us know in the comments below!
Jacob joined What's on Netflix in 2018 and serves as one of the lead writers here on What's on Netflix. Jacob covers all things Netflix movies and TV shows but specializes in covering anime and K-dramas. Resides in the United Kingdom.
What's Coming to Netflix This Week: July 18th to 24th, 2022
Russo Brothers (AGBO) Movies Coming Soon to Netflix
What's Coming to Netflix in July 2022
What's Coming to Netflix in August 2022
new Netflix releases this week
Netflix News
Fate: The Winx Saga Season 2: Netflix Release Date & What To Expect
Jul 17, 2022
Coming Soon to Netflix
What's Coming to Netflix This Week: July 18th to 24th, 2022
Jul 17, 2022
What's New on Netflix
Netflix Added 34 New Movies and Shows This Week
Jul 17, 2022
What To Watch on Netflix
Top 100 Movies and Shows on Netflix This Week: July 17th, 2022
Jul 17, 2022
Coming Soon to Netflix
Russo Brothers (AGBO) Movies Coming Soon to Netflix
Jul 17, 2022
Coming Soon to Netflix
What's Coming to Netflix in July 2022
Jul 17, 2022
What's on Netflix is not endorsed, moderated, owned by or affiliated with Netflix or any of its partners in any capacity. The authors of this site also have no affiliation with Netflix. All promotional material including but not limited to trailers, images and videos are all copyright to their respective owners. Netflix is a registered trademark of Netflix, Inc.
© 2022 What's on Netflix – All Rights Reserved.
[widget id="doubleclick_widget-9"]
[widget id="custom_html-6"]